Style Files: Spring Newness in Plus Size Fashion
Ok Spring where you at!? It's April...you can show up now! While the weather might be unpredictable, plus size brands and designers have been showing up and showing out. Have you checked out the newness lately? Don't worry I've got you covered. Here is some Spring newness that you need to know about!
Gabi Fresh Swimsuits For All: We all know that Gabi Fresh brings the fierceness with her Swim Suits For All collaboration, and the second part to her 2018 collection is no different. Gabi Fresh has got a girl wanting to get out there and catch all the waves. Check out my favorites from the collection below: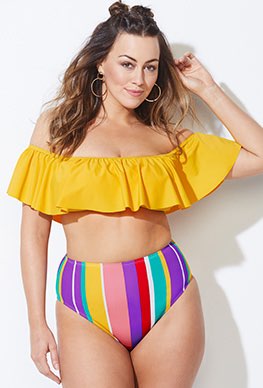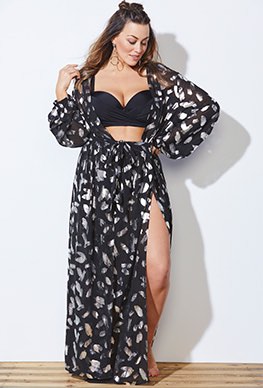 Jibri Spring 2018 Collection: I live for indie designers! When I discovered the Jibri collection designed by Jasmine Elder I was blown away by her collection and talent. She never ceases to amaze me! Did I mention that each piece is handmade. I mean hello!? Jibri is the real deal here ladies! Here are my favorites from the new Spring collection:
Eloquii's The Botanist Collection: Whoever made the unwritten rule that plus sized girls can't wear print, this is me giving you MAJOR side eye. Eloquii is continuing to change the print game for us curvy girls and their new collection is breaking all the rules. Bold prints? Bold shades? Off the shoulder!? Say what!? I'm living for all of this! My favorite pieces from the collection are below. So what are you waiting for girl? Rock the print!
Premme: When I got the notification that Premme was launching newness on their site I couldn't log on fast enough. Premme is continuing to break barriers, and I'm all about it. White Moto jacket!? YES! I cannot wait to rock this with some distressed denim jeans. Kahki trench with pale yellow lapel!? YESSSS. I'm loving so much of the newness. I suggest you get your favorite pieces now because I can guarantee that these will sell out ASAP.
Ok Spring any day now, a girl's got new clothes to wear!
xo,
Curvaceous Lush
We can be curvy, fashion-forward, and fabulous! #jointhemovement